A potential scammer is trying to take people's hard earned money who are looking to explore our wonderful countryside this year. 
A website offering some of the best prices we have seen on camping gear probably is too good to be true.
Is Sleeping Shelter scamming its customers?
Victor Kovachev claims to have been scammed by Sleeping Shelter and is advising potential buyers to stay away. He says "what they do is they do not send you the product, but they also don't charge you immediately. Few weeks later a random charge will appear on your card not referencing that website and for a different amount hoping you will not notice." 
The site in question while it does stock some of the best outdoors Brands, Terra Nova and Wild Country. We do not believe them to be official stockists and have reached out to these brands to confirm this, but it's quite easy to grab the information they need to add these products to their website.
One of the key red flags is how good the prices are, they are too good. In fact I also sell these brands on our camping website and these prices are below our cost price. It costs us more to buy them than for what they are selling them for, but an average outdoor enthusiast customer wouldn't know this.
Luckily Victor bank has given him the money back, but there are checks and he admits himself that you can do it before placing an order.
It looks like there could be more victims out there other than Victor. Will said: "100% FRAUD
This website is one of a number of sites that have appeared over the last few months offering products at 'too good to be true' prices. If you check out the company address given on the website then you will see that it doesn't exist. These scam websites all use the same format with different styles, so that to the casual browser they look different. The people behind these scam sites rip content from other legit websites (including company logos) to give them the appearance of being legit, but they are NOT.

USE YOUR COMMON SENSE AND DO NOT BUY ANYTHING FROM THIS SITE"
Chris also said on Trust pilot: 
"100% Fraudulent
Fraudulent website, although very convincing! Paid for a tent but received no invoice, no confirmation, nothing. On closer inspection (something I should have done first, admittedly), they have zero social media presence, no contact details, no reviews other than this Trustpilot page.. nothing.

I paid via PayPal so I'm fairly confident I'll get my money back – hopefully other people will see this! Avoid! Their prices are too good to be true for a reason!"
With this business it doesn't seem like they have delivered any orders and looks like its a business to avoid.
To be clear, we prefer the small retailers, the family camping shops whether that's online or in store and we encourage them to start and you to shop with them over the bigger chains – but you just need to check first the guidelines first to make sure its a legit business.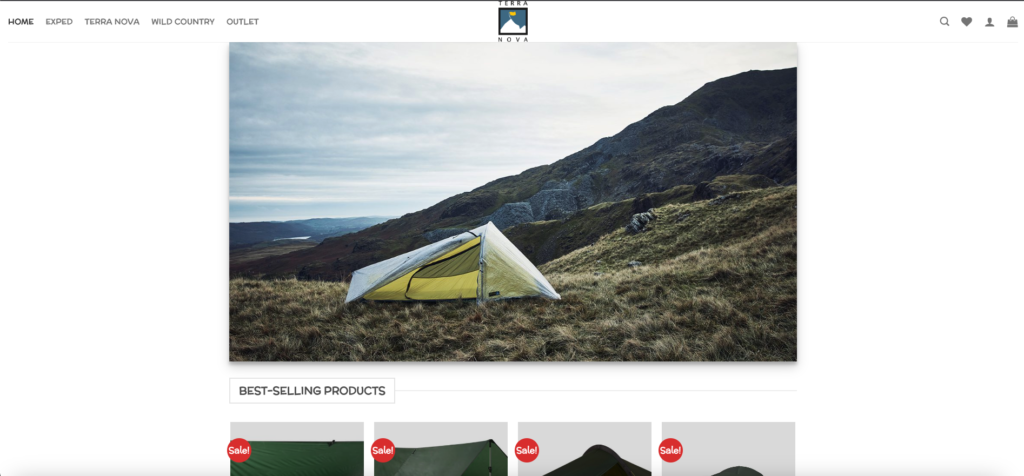 There are several ways to spot a scam website:
Check the website's URL: Scammers often create websites with similar names and URLs to legitimate sites, so always double-check the URL to make sure it's correct. Also, be wary of websites that use unusual top-level domains (such as .biz or .info) or subdomains (such as paypal.security.com).

Look for contact information: Legitimate websites usually provide contact information, such as an email address or phone number. If a website doesn't have any contact information or only provides a form to fill out, it could be a red flag.

Check for security indicators: Make sure the website has a secure connection by looking for a padlock icon in the address bar and the letters "https" in the URL. If the website has an outdated or missing SSL certificate, it could be a sign of a scam.

Check for spelling and grammar errors: Scammers often use poor grammar and spelling mistakes on their websites. If you notice numerous errors or awkward phrasing, it's a good indication that the site may be a scam.

Be cautious of offers that are too good to be true: If a website is offering a deal that seems too good to be true, it probably is. Scammers often lure people in with promises of free products or services, but then ask for payment or personal information later.

Check online reviews and ratings: Look for reviews and ratings of the website and the company behind it. If there are numerous negative reviews or complaints, it could be a sign that the website is a scam.

Google "Brand + reviews" to see what people are saying about the company.
Other signals on this specific website:
It's not registered in the UK,

It's a LLC which is a more common US type of business.

The address isn't complete

There is no phone number

No social profiles

All the reviews (5 which isn't a good sign) are 1 star.

The website was only bought recently Dec 22. All businesses have to start somewhere, but this one in 4 months hasn't had any positive reviews.

Business is set up to a PO Box in Denvor

They don't offer Klarna, Clearpay or any other finance offers. While not a signal itself, when you apply as a business to offer these services they do background checks on the business. If they do offer even if you don't use it, the business will have been through manual checks by a finance company. This isn't 100% proof but worth a quick look.
If you are shopping at a smaller retailer and have a good experience, it does help them to leave a positive review for the above reasons. I know about review fatigue the amount you can get, but smaller businesses it can really make a difference.  
So if you are planning on buying new camping equipment this summer, do check before purchasing. If you have been scammed by this company or any other company please contact your bank immediately as well as reporting it here actionfraud.police.uk
Andy Halliday is a passionate outdoor enthusiast and an avid camper. He has been exploring the wilderness and camping in the great outdoors for over two decades, and his experiences have inspired him to write about the joys of camping and the beauty of nature.
As a camping enthusiast, he believes that spending time in the wilderness is not just a way to escape the daily grind, but also a way to connect with nature and gain a deeper appreciation for the natural world. Andy has camped in various locations across the country and on two different continents. He has a wealth of knowledge and experience to share with fellow campers.
Through his writing, he hopes to inspire you to venture out into the wilderness and experience the beauty and serenity of camping. Andy articles and guides provide useful tips, advice, and insights on everything from selecting the right gear and equipment to finding the best campsites and hiking trails.