In 2022, Scottish Mountain Rescue teams once again found themselves responding to a large number of incidents across the Scottish mountains.
According to the latest statistics, there were 636 incidents in total, requiring the services of the dedicated teams of volunteers who make up Scotland's Mountain Rescue services.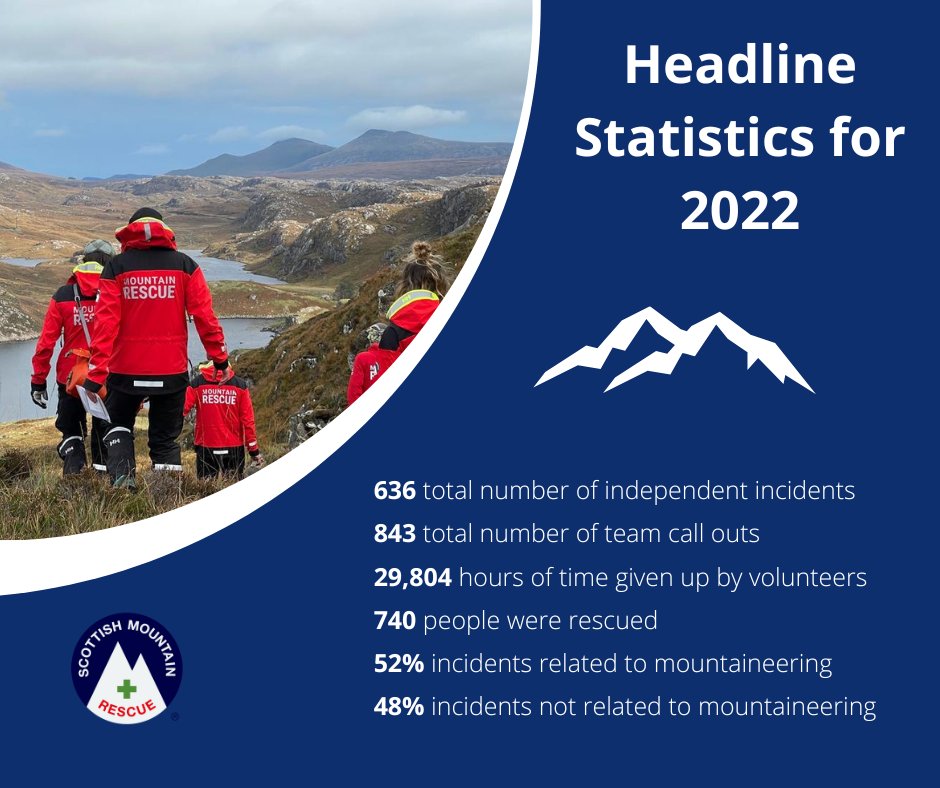 Of these incidents, 52% were related to mountaineering activities such as hill-walking, scrambling, rock climbing, winter climbing, and Mountain Rescue Team (MRT) activity.
The remaining 48% were non-mountaineering incidents, including incidents related to medical emergencies, lost walkers, and injured cyclists, among others.
The total number of separate team call-outs was 843, with an additional 63 'continuations' (linked call-outs on different days), bringing the total number of call-outs to 906.
This highlights the dedication and commitment of Scotland's Mountain Rescue teams, who are always on call, ready to respond to any emergency situation that may arise.
The volunteers who make up these teams also gave up an incredible 29,804 hours of their time during call-outs alone.
This selfless dedication to helping others, often in challenging and dangerous conditions, is what makes Scotland's Mountain Rescue services so essential and invaluable to those who venture into the Scottish mountains.
In total, 740 people were assisted by Scotland's Mountain Rescue teams in 2022.
This includes individuals who were injured or lost while out exploring the Scottish mountains, as well as those who were in need of emergency medical assistance.
Despite the challenges and risks involved, the volunteers who make up Scotland's Mountain Rescue services continue to provide an essential service to the public.
Their bravery, skill, and dedication help to ensure the safety of those who enjoy Scotland's beautiful mountains, and we owe them a debt of gratitude for their tireless efforts.
Andy Halliday is a passionate outdoor enthusiast and an avid camper. He has been exploring the wilderness and camping in the great outdoors for over two decades, and his experiences have inspired him to write about the joys of camping and the beauty of nature.
As a camping enthusiast, he believes that spending time in the wilderness is not just a way to escape the daily grind, but also a way to connect with nature and gain a deeper appreciation for the natural world. Andy has camped in various locations across the country and on two different continents. He has a wealth of knowledge and experience to share with fellow campers.
Through his writing, he hopes to inspire you to venture out into the wilderness and experience the beauty and serenity of camping. Andy articles and guides provide useful tips, advice, and insights on everything from selecting the right gear and equipment to finding the best campsites and hiking trails.