As we reported earlier there are plans in Yorkshire to create England's largest native woodland, but that's not the only projects in place to expand Britain's woodlands.
There are plans to to create the 'Heart of England Forest'. A charity has set an ambitious goal to help reverse centuries of woodland decline by planting and protecting a 30,000 acre forest. The aim is to benefit the environment, wildlife and people. 
Over the winter months they have just reported that they managed to plant an additional 100,000 trees across 8 different sites. The 127,748 trees over 233 acres this winter. In total since the project started 2,148,171 trees have been planted.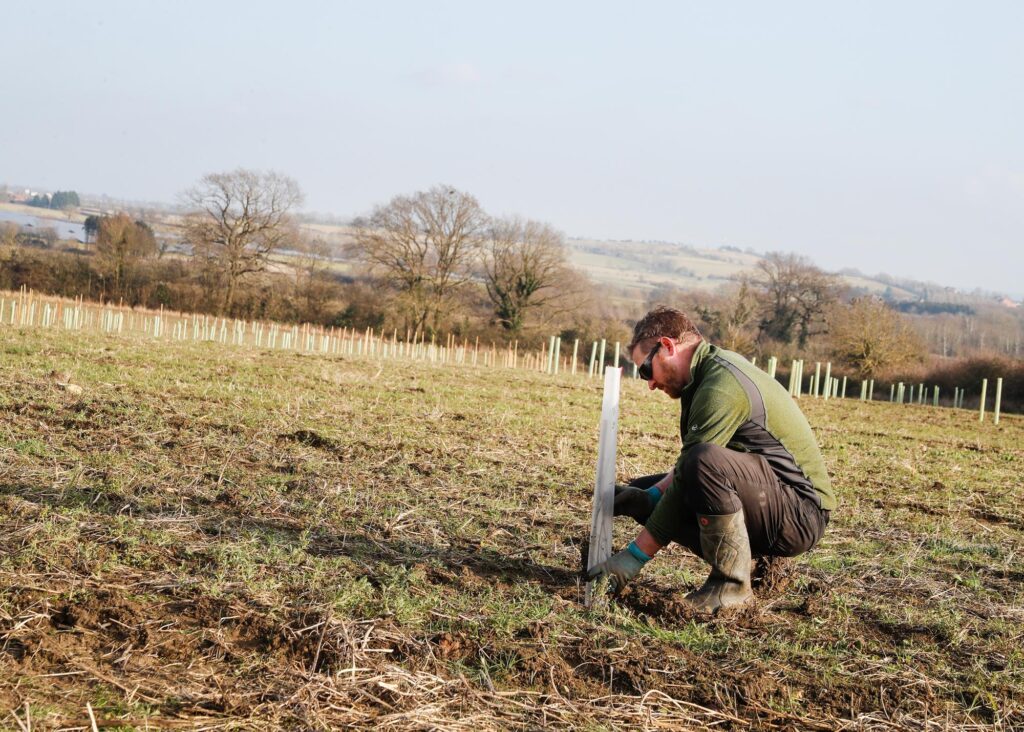 Senior Forest Ranger, Ian, shares some insights into the forestry team's work over the winter period:  
"New woodland creation dominates the months of November through to March. This year we planted around 20,000 trees spanning two fields near Coxmere Wood. A team of 13 staff planted this in just over a month, in what was mostly pleasant planting conditions, however our progress was hampered a little by a period of sharp frosts. Luckily, the ground didn't get too hard, so the team was able to keep going. Bumping in stakes is a great way to keep warm in minus temperatures!  
After Christmas and into the New Year my team were joined by the Spernal team to plant 28,000 trees on our land at Dodwell. 
As anyone who has recently watch 'Wild Isles' will know tree decline has been happening for too long in our great country,  In fact only 13% of the UK is covered by woodland – one of the lowest figures in Europe – and half of this is non-native plantations, which aren't as beneficial for wildlife. Sadly, just 2.5% of our wild isles is precious ancient woodland.
But with these two projects and many more across the country we might actually have a chance to reverse this. 
If you want to help support this charity, visit the woodland or find out more information, you can visit the Heart of England Forest website
Andy Halliday is a passionate outdoor enthusiast and an avid camper. He has been exploring the wilderness and camping in the great outdoors for over two decades, and his experiences have inspired him to write about the joys of camping and the beauty of nature.
As a camping enthusiast, he believes that spending time in the wilderness is not just a way to escape the daily grind, but also a way to connect with nature and gain a deeper appreciation for the natural world. Andy has camped in various locations across the country and on two different continents. He has a wealth of knowledge and experience to share with fellow campers.
Through his writing, he hopes to inspire you to venture out into the wilderness and experience the beauty and serenity of camping. Andy articles and guides provide useful tips, advice, and insights on everything from selecting the right gear and equipment to finding the best campsites and hiking trails.