The Glossop Mountain Rescue Team (GMRT) was called out on Sunday, 30th April 2023 to assist an injured gentleman on a path from Sitch Lane in Hayfield. The call was made by an ex-team member who had come across the injured man.
According to the GMRT, "He had called the ambulance, but used his experience to realize that Mountain Rescue would be needed to evacuate the casualty." This quick thinking was crucial in ensuring that the injured man received the appropriate care in a timely manner.
Upon arriving at the location, the team found that the ambulance service was already in attendance and treating the injured man. The GMRT used their stretcher to safely evacuate him to the waiting ambulance.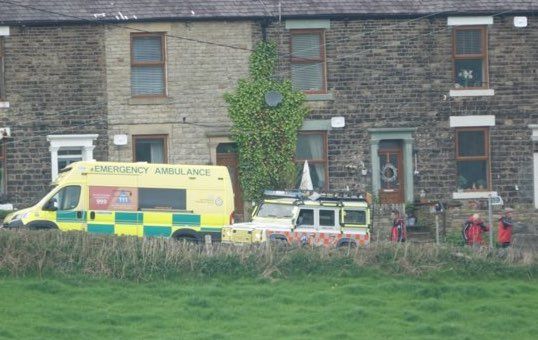 The callout lasted for one hour and involved the efforts of 22 team members, contributing a total of 22 volunteer hours. This callout brings the total volunteer hours for the year up to 656.75, a testament to the dedication of the team members to their community.
As the GMRT stated, "We are proud to serve the people of our community and to be ready to assist in any situation where our services are needed." The team's commitment to their community and their willingness to put themselves in harm's way to help others is a testament to their bravery and selflessness.
The callout on Sunday, 30th April 2023 is just one example of the important work that the Glossop Mountain Rescue Team does on a regular basis. Their quick thinking, dedication to their community, and willingness to assist in any situation is an inspiration to us all. We are grateful for their service and the sacrifices they make to keep us safe.
Andy Halliday is a passionate outdoor enthusiast and an avid camper. He has been exploring the wilderness and camping in the great outdoors for over two decades, and his experiences have inspired him to write about the joys of camping and the beauty of nature.
As a camping enthusiast, he believes that spending time in the wilderness is not just a way to escape the daily grind, but also a way to connect with nature and gain a deeper appreciation for the natural world. Andy has camped in various locations across the country and on two different continents. He has a wealth of knowledge and experience to share with fellow campers.
Through his writing, he hopes to inspire you to venture out into the wilderness and experience the beauty and serenity of camping. Andy articles and guides provide useful tips, advice, and insights on everything from selecting the right gear and equipment to finding the best campsites and hiking trails.