On Sunday 16th April Cave Rescue Organisation received a call saying a man had fallen into a pothole in the Yorkshire Dales. 
It turns out he was trying to take a photograph of a large pothole and fell in.
The 26-year-old was attempting to snap Hull Pot on the flanks of Pen-y-ghent on Sunday, when he ventured a little too far, falling over the edge of the 18m deep hole.
The Clapham-based Cave Rescue Organisation was alerted about 1.20pm and members made their way to the 90m-long pothole.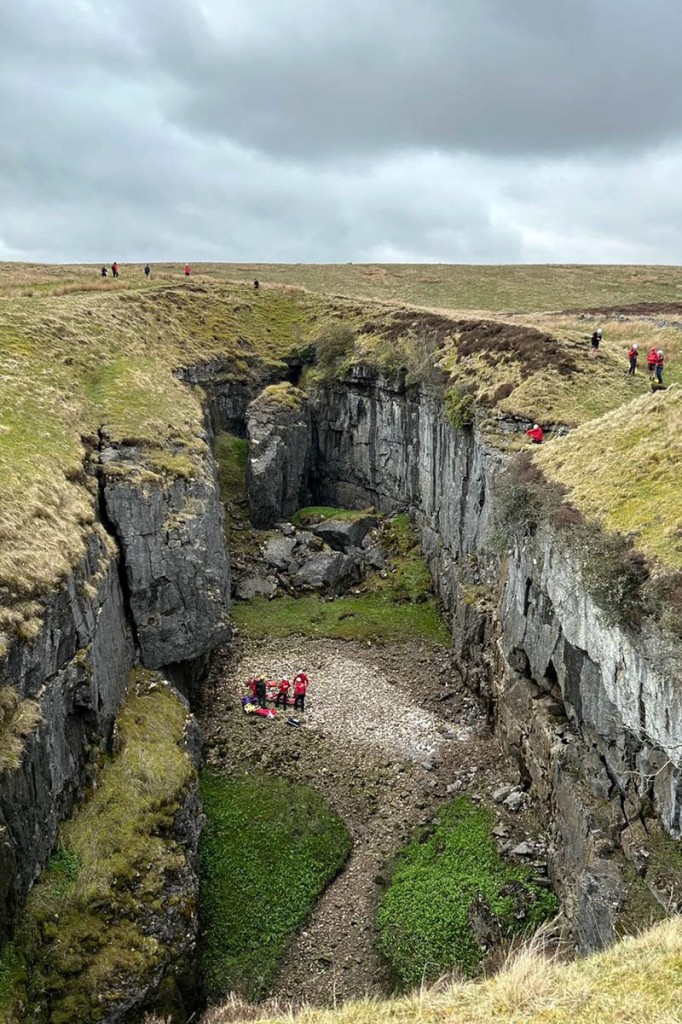 A team spokesperson said: "CRO members arriving at the site found that a [North West Air Ambulance] helicopter had just landed and also a local farmer had transported [Yorkshire Ambulance Service] personnel there. Team members rigged and descended the gully at the eastern end to reach the casualty.
"They were soon followed by a YAS paramedic, using CRO safety equipment. While the casualty, who had regained consciousness and was described as 'quite chatty', was being assessed, other team members rigged a two-line hauling system, with pulleys for 'mechanical advantage', at the waterfall, northern, side of the hole.
"Once packaged and on the stretcher, the casualty was carried across the pot, then he and a 'barrow-boy' were hauled to the surface, with the stretcher kept horizontal."
The injured man was handed over to the air ambulance paramedics who, with the CRO doctor, assessed him thoroughly again before he was loaded into the helicopter for the flight to hospital.
The spokesperson said, superficially, the casualty appeared to have a head injury and a broken collarbone. The ambulance paramedic, team members and all equipment were recovered back to the team vehicles and all returned to Horton.
ing elit. Ut elit tellus, luctus nec ullamcorper mattis, pulvinar dapibus leo.
Andy Halliday is a passionate outdoor enthusiast and an avid camper. He has been exploring the wilderness and camping in the great outdoors for over two decades, and his experiences have inspired him to write about the joys of camping and the beauty of nature.
As a camping enthusiast, he believes that spending time in the wilderness is not just a way to escape the daily grind, but also a way to connect with nature and gain a deeper appreciation for the natural world. Andy has camped in various locations across the country and on two different continents. He has a wealth of knowledge and experience to share with fellow campers.
Through his writing, he hopes to inspire you to venture out into the wilderness and experience the beauty and serenity of camping. Andy articles and guides provide useful tips, advice, and insights on everything from selecting the right gear and equipment to finding the best campsites and hiking trails.